 Customized Facial Peel in Englewood, NJ
A facial or facial peel is a vital step towards healthier, revitalized, radiant skin for both men and women. Perhaps more importantly, they are deeply relaxing. Melt away stress and lift your mood while improving your overall appearance. One of our core services, our customized facial peel is designed to target your exact skincare needs and is suited for any type.
CUSTOMIZED FACIAL PEEL IN DEPTH
by Bruce Freund, D.D.S.
A deep clarisonic cleanse and tone is followed by gentle exfoliation to polish away impurities. Steam is applied and extractions performed (per request). Massage of the face neck and shoulders ease tension and warm aromatherapy towels help you relax. Facials or facial peel treatment includes skin specific serums, masque and moisturizer with SPF protection. We offer a variety of facial treatments specifically tailored and customized for your specific needs. Whether your skin concern is aging, acne, texture, large pores, sun damage, prevention, dry skin or oily skin, we have a facial treatment for you. Facials help maintain your skin's health all year long. Most patients receive facials on average about every 4 – 6 weeks. Depending on your skin, facials may be needed more or less frequently to address certain problems. You should at minimum have a facial with each season change to reevaluate your skin's needs and home regimen.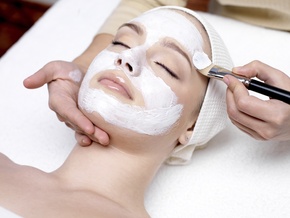 CUSTOMIZED FACIALS FAQs
What does the facial include?
Our facial includes a skin consultation, steaming, cleansing and toning, extractions (optional), treatment and repair products, a mask and moisturizer for face, neck and eyes.
What are the benefits of having a facial?
Facials help to moisturize and deeply cleanse the skin. They help to reduce blemishes and breakouts while improving skin tone and texture. Facials help to reduce fine lines and wrinkles and can help repair damaged cells. A facial is vital in preventing future skin damage.