RuPaul's Drag Race star Alexis Michelle heads to the Aesthetic Rejuvenation Center (Englewood Cliffs, NJ) with Adam Barta for some Botox with Dr. Freund, injector to the stars, and a PRP facial with celebrity aesthetician Kathleen, to see if she can fool the staff into thinking she's Kris Jenner!
"I love paying tribute to Kris! She's a remarkable and beautiful woman, and one of the most fascinating players in showbiz. She is showbiz! It's so fun getting to step into her shoes, and [my friend] Adam [Barta] wanted to try an experiment to see if I was unclockable to Dr. Freund and his staff — he was right!"
Watch Dr. Freund and the staff get pranked: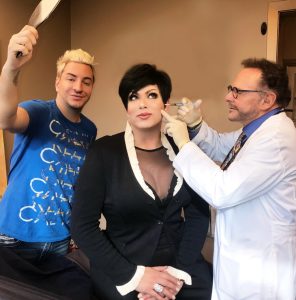 During her visit to the doc, Alexis got some Botox and facial fillers to enhance her Kris-facade with doctor-to-the-stars Dr. Bruce Freund. The VH1 personality, who was decked out in a white-collared black dress-suit à la Kris, also braced herself for a PRP facial — the bloody (but rejuvenating) skin treatment that celebrities swear by.
Read the entire article here