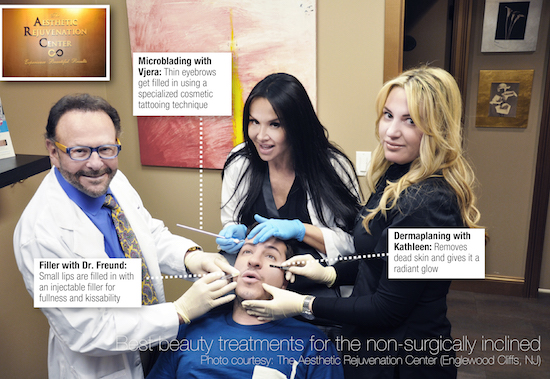 Michael Shirley recently interviewed Adam Barta at the Aesthetic Rejuvenation Center

Having never been under the knife myself, I caught up with celebrity-duet hitmaker Adam Barta – who was featured on the debut episode of WE TV's new hit plastic surgery show "Dr. Miami" – for his routine beauty tune-up at the Aesthetic Rejuvenation Center to catch up on what life is like after bearing his insides – literally – for millions to see on TV.
On Dr. Miami, you mentioned to your producing partner, Jordan von Haslow, that you went back to visit the Aesthetic Rejuvenation Center in New Jersey to get more work done after your surgery. Dr. Freund, his staff and office are all so inviting. What keeps you coming back to ARC, and what non-invasive procedures do you recommend for men who want a tune up without going under the knife?
On "Dr. Miami," I was given the gift of the perfect nose and chin via plastic surgery. Dr. Miami calls himself "Picasso with a knife." But even with
plastic surgery, we still age. So, it's just as important for me to maintain my skin as it is my features. I feel as if Dr. Freund at ARC and his staff are also artists, not just doctors or nurses or aestheticians. They truly get that the body and face are a work of art, and it takes more than just knowing the physiology of the body to make someone look beautiful. They recommend procedures based on what you want to make you look beautiful, and that's an important factor in choosing a spa to go to. Getting my brows done with Vjera of Avarté was epic for me! I saw myself on Dr. Miami when I had my initial consult and noticed how jarringly thin my brows were around my face. With my new nose and chin, and the thicker, more defined brows, it completely reframed my face. Many men are flocking to people like Vjera to give them the brows of their dreams. Then a gold facial with Kathleen is perfection. Say bye-bye to facial tape, queens!   read more . . . .