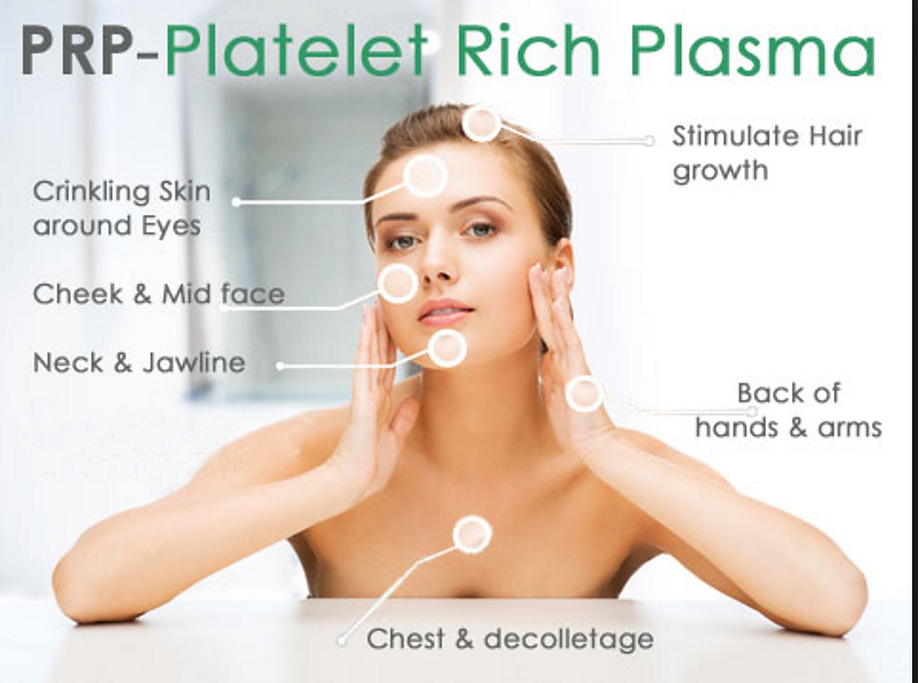 What is PRP-Platelet Rich Plasma?
PRP-Platelet Rich Plasma is a procedure that involves withdrawing a patient's blood, processing it to isolate the platelet-rich plasma (PRP), then re-injecting it to erase wrinkles and create a more youthful look. Used by celebrities such as Kim Kardashian, the skin tightens, and glows with color, and scaring softens for a beautiful younger and very natural result.
First, the technician draws about 20cc's of blood, using the latest technology to isolate platelets from that blood all within about 30 minutes in the office. Then they "activate" those platelets to cause the release from the platelets of at least 8 growth factors that would normally be used to heal injured tissue. These growth factors work like magic to cause increased collagen & new blood flow.
Platelet Rich Plasma For the Face
In this procedure the doctor can sometimes first use a Hyaluronic Acid (HA) filler (like Restylane®) in a very specific way to sculpt a younger appearing face–while still keeping the shape natural.
The doctor will then inject the patient's own PRP growth factors into the face. These growth factors then activate multi-potent stem cells already in the skin (tricking them into "thinking" there's been an injury and new younger tissue should be generated). The multi-potent stem cells then develop into new collagen, new blood vessels, and new fatty tissue trying to "repair" the skin that was never injured!
The result…younger-appearing skin! The effects of the PRP procedure continue to improve for 2 to 3 months and last for at least 1 to 2 years! The whole in-office procedure takes about 60 minutes with minimal discomfort and downtime.
PRP for Hair Loss
Using the same principles and procedures as other PRP-Platelet Rich Plasma procedures, PRP has been shown to have great success with restoring lost hair in men and women!
PRP contains many growth factors that stimulate the hair follicle's growth. Some patient's chose to have PRP performed every three (3) to four (4) months as early data suggests regular or semi-annual PRP treatments can stimulate hair growth. Learn more HERE
Want to know more? Book your Free Consultation Today!
Some of our other services include Botox, Dysport, Xeomin, Restylane, Radiesse, Dermaplaning, MicroNeedling, custom facials, chemical peels, acne treatments, hair restoration, LED Treatment, Intense Pulsed Light (IPL), Platelet Rich Plasma (PRP), laser hair removal and more! If you would like a free consultation, visit our contact page or Call 201-568-0606